Composition 123
Delicate and magical like a Parisian morning! Add a couple of croissants, a cup of aromatic coffee and your dream is definitely destined to come true.
Ingredients: roses, spray roses, echeveria, tulips, forget-me-not, clove pink, rice flowers, heleborus, virgins-bowers.
Wrapping: ribbons.
Size: 40 cm.

Ближайшая доставка: Сегодня, с 08:00 до 10:00
Important!
All our bouquets are unique. Some flowers and materials are seasonal and may not be available at the moment, so we reserve the copyright to determine the final composition of the bouquet. But we promise that the bouquet will remain as stylish and unique.

The price is valid only for the online store and may differ from the prices in retail stores
Complete your gift
Features of the delivery of our bouquets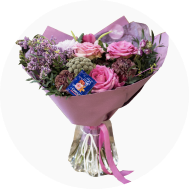 All bouquets are additionally installed in plastic vases with water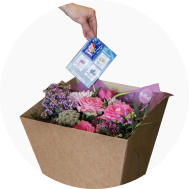 We carefully pack a special flower-feeding product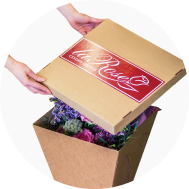 Bouquets and arrangements we deliver in a box to preserve the quality and freshness of flowers