Bouquet 189
This bouquet will not only bring joy to your beloved persons on a special event, but also will cheer him up set his pulse racing. These flowers will light them up with pleasure and fulfill with positive vibes like a magic ray of sunshine.
Diameter 30cm
Ingredients: garden roses, spray roses, eustoma, tulips, grape hyacinth, snowball tree
Greens: Eucaliptus
Wrapping: tissue paper, colored film, ribbons

Ближайшая доставка: Сегодня, с 06:00 до 08:00
Important!
All our bouquets are unique. Some flowers and materials are seasonal and may not be available at the moment, so we reserve the copyright to determine the final composition of the bouquet. But we promise that the bouquet will remain as stylish and unique.

The price is valid only for the online store and may differ from the prices in retail stores
Complete your gift
Features of the delivery of our bouquets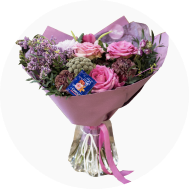 All bouquets are additionally installed in plastic vases with water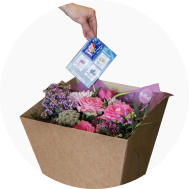 We carefully pack a special flower-feeding product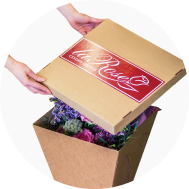 Bouquets and arrangements we deliver in a box to preserve the quality and freshness of flowers